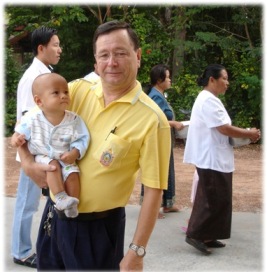 Profile: Currently working at the Language Centre Udonthani Rajabhat University. From 1997 to 2006 I worked at AUA in Udonthani, before that I worked at a vocational school in Udonthani. At the side I saw several other schools from inside, i.e. I taught there.

Before I came to Thailand I was in corporate training for several companies in and around Frankfurt/Main, Germany. I did that for about 20 years and learnt a lot from my students. I also taught business & technical English for about 3 years at Frankfurt Technical College for BA business administration students - also taking their final exams. That all was from 1976 to 1996.
From 1973 to 1976 I was in the school services in Hesse, Germany teaching English, history and a bit of French at a comprehensive, grades 5 to 10.

Apart from all this I have been working as a translator, English/German/Dutch to English/German since about 1979. Click to see my translator profile.